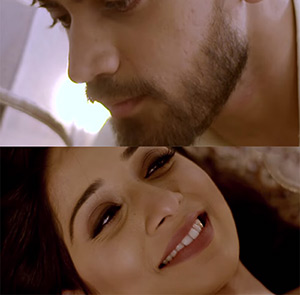 These Streets Teasers November 2021
Friday 1 October 2021
Episode 88
Monday 4  October 2021
Episode 89
A heartbroken Shantanu decides to go to Mumbai to win Asmita back when Nilambar encourages him to not give up on his love. Paromita strikes a deal with Beauty involving revealing Asmita's location in exchange for setting Mohit free.
Tuesday 5 October 2021
Episode 90
Asmita hears Shantanu on the radio addressing her. He expresses his love for Asmita and requests her to meet him. Beauty's goons, who were following Shantanu, plan to kill Asmita.
Wednesday 6 October 2021
Episode 91
Divya lets Asmita know that it was Shantanu who had saved her from Beauty's goons the day before. Meanwhile, Ridoy writes in his blood that he loves Asmita. A heartbroken Ridoy arrives at a boxing match and challenges one of the boxers, Vicky, for a fight. During the fight, Ridoy is gravely injured and is hospitalised.
Thursday 7 October 2021
Episode 92
Chanda asks Asmita to come to Kolkata because she is sick and feels her end is near. Chanda refuses to talk to Shantanu while Asmita resolves to nurse her through her illness. To Nivedita's horror, Ridoy performs her last rites and declares that Shantanu too is dead to him.
Friday 8 October 2021

Episode 93
Considering Ridoy's current state, Ravindra decides to bring Asmita back home. Chanda vows to kill Nivedita and runs away before he could stop her. Shantanu warns Nivedita about it and pursues Chanda.
Monday 11 October 2021
Episode 94
Asmita accuses Shantanu of killing Chanda and curses him for being an awful son. Shantanu tries to participate in Chanda's cremation but Asmita does not let him. She vows to avenge Chanda's death and declares the end of her and Shantanu's friendship. Asmita informs Ridoy that she is ready to return to the Majumdar family as his wife.
More Teasers to be Available Soon.